Tanqueray gin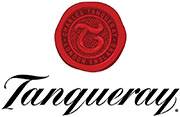 Advertising slogan: Ready to Tanqueray?
Beefeater London Dry Gin
Beefeater. This is Gin.
Make it a double.
Live a little (United States campaign)
Gordon's gin
Gordon's. Refreshing yet dry.
Mix Gordon's with Pleasure.
Re-mix yourself.
Go for a Gordon's.
Gilbey's special dry gin
Gilbey's. Taste the smoothest gin today.
So smooth. Good times last longer.
Hendrick's a small-batch gin hand crafted in Scotland
Hendrick's. A most unusual gin.
Hendrick's. It is not for everybody.
Preferred by 1 out of 1000 gin drinkers.
Martin Miller's a premium English gin
Advertising slogan: Martin Miller's. Be a tastemaker.
Bombay Sapphire gin
Sapphire Inspired.
Bombay Sapphire. Pour something priceless.
Gin is a distilled alcoholic drink that derives its predominant flavour from juniper berries (Juniperus communis). Gin is one of the broadest categories of spirits, all of various origins, styles, and flavour profiles, that revolve around juniper as a common ingredient.