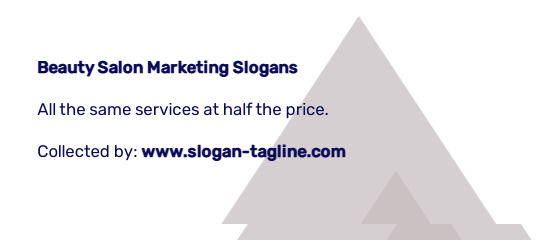 Near you. For you.
All the same services at half the price.
Add that special care.
Look your best.
Step out with confidence.
Get groomed by the best.
The distinctive style.
Give yourself that stunning shine.
A better you.
Turn yourself to perfect beauty.
Beauty that attracts.
Look great. Always. Every time.
Highlight the awesome you.
The perfect makeover.
Suit yourself to the occasion.
Rise to the occasion.
The pampering you deserve.
Reveal your true look.
Let your skin glow.
Wait no more.
Enter for a new makeover.
Any hairstyle your heart desires.
Specialists at your service.
Getaway to your secret makeover.
Only the best of products.
Glam up your look.
It doesn't have to be expensive.
Why should beauty cost a lot?
Skin spa for enjoyment.
Time for pampering.
Maintain that perfect look.
Highlight your features.
Your beauty. Our services.
Spoil yourself a little.
The best of beauty services at the most reasonable prices.
The sweet escape.
Step out feeling great.
Be the real you.
The perfect place to relax.
Relaxation done right.
Take care of that special skin.
The relief your skin needs.
Indulge yourself in beauty.
Walk out with a smile.
Beautify that exceptional face.
Unisex salons for the perfect makeover.
Get yourself a reaction.
The talk of town.
Beauty you can't resist.
Let's you fall in love with yourself.
You deserve a treat.
Beauty services that work from inside out.
Experienced staff for the unique you.
The experience that matters.
Give yourself a unique style.
Look your very best.
Get yourself ready for the special event.
We understand your skin.
Your looks are our business.
Only the ultimate.
Reveal your natural beauty.
Masters in the art of beauty.
Makeover done right.
Hairdressing experts for every occasion.
Redefine every aspect of your beauty.
All eyes on you.
Framing your face for the event.
Inspire yourself.
Understanding the essence of beauty.
You're worth your beauty.
Feel unique. Feel special.
Experience life that way it's meant to be experienced.
Love yourself. All over again.
Pamper yourself. From head to toe.
Bring out the sexy in you.
A personal touch by the experts.
Offering you the best you can get.