A.1. Sauce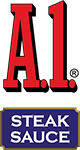 Don't cover it. Discover it, with A.1. (1980s)
Great Steak! Great fun! A.1.! (1981)
A.1. makes hamburgers taste like steakburgers. (early 1980s)
A.1.—How Steak is Done. (1990s)
A.1.—Yeah, it's that important. (early-mid-2000s)
A.1.—Makes Meat Loaf sing. (2009)
A.1.—For Almost Everything. Almost. (2014)
A.1.—Makes beef sing. (current)
Chiffon margarine
It's not nice to fool Mother Nature!
Dairylea (cheese)
Kids will eat it until the cows come home.
Kids will do anything for the taste of Dairylea.
General Foods
Advertising Slogan: There's a Reason.
Jell-O

There's always room for Jell-O.
Don't forget—you have to remember to make it.
Kraft Dinner
Slogan: a meal for four in nine minutes for an everyday price of 19 cents.
Maxwell House

Good to the last drop.
MiO
Flip it. Tip it. Sip it!
Make it Yours, Make it MiO.
Nabob (coffee)

Slogan: Better beans, better coffee, better planet.
Planters
The Nickel Lunch! – peanuts/peanut bars (1930s–1940s)
Planters is the word for (good) Peanuts. (Various products – 1950s)
Peanut butter with a crunch. (P.B. Crisps – 1992)
Relax. Go Nuts. (Deluxe Mixed Nuts – 1997)
Put Out the Good Stuff. (Various Products – 2003)
Instinctively Good. (Various Products – 2007)
Naturally Remarkable. (Various Products - 2011)
Deliciously NUT-RITIOUS. (UK range - 2016)
Shake 'n Bake
Shake 'n Bake: It's better than frying.
Why fry? Shake 'n Bake.
Stove Top stuffing
Tagline: If it's not Stove Top, it's not Thanksgiving.
Vigroids
Slogan: for clarity of voice.
Kraft Foods Group, Inc. is an American grocery manufacturing and processing conglomerate headquartered in Chicago, Illinois, part of the Kraft Heinz Company.