7 Up Lemon-lime drink
Marketing Slogan: Never Had It, Never Will.
Dr Pepper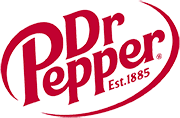 1889–1914: King of Beverages.
1920s–1940s: Drink a Bite to Eat at 10, 2, and 4 o'clock.
1939: When You Drink a Dr. Pepper You Drink a Bite to Eat.
1930s–1940s: Good For Life.
1945: Dr. Pepper has 23 flavors
1950s: The Friendly Pepper Upper.
1960s: America's Most Misunderstood Soft Drink.
1970s-77: The Most original Soft Drink Ever.
1977–1983: I'm a Pepper, He's a Pepper, We're a Pepper., Be a Pepper., Wouldn't you like to Be a Pepper too?
1983: Dr Pepper Has Made a Pepper Out of me.
1983: It Tastes and It Looks. (Sugar Free Dr Pepper)
c. 1984 Out of the ordinary. Like You.
c. 1984 The Taste for Out of the ordinary Bodies. (Diet Dr Pepper)
1984–1997: Hold Out For the Out of the ordinary.
1980s–Present Dr Pepper, what's the worst that could happen?, used in the UK, playing on the fact that many UK consumers don't know what the drink tastes like and are wary of trying it
1991: Just what the Doctor ordered.
c. 1997: It's Dr Pepper Flavour, Silly! Australia
c. 1997: Expect the Unexpected! Australia
1997: Now's the Time. This is the Place. Dr Pepper Is The Taste.
2000: Dr Pepper, It Makes the World Taste Better.
2000–Present: Just What The Dr ordered.
c. 2001 Dr Pepper, so misunderstood
2002–2004: Be You.
2002–Present: Solves All Your Problems. (used in Europe)
2003 Dr Pepper, to try it is to love it (used in the UK)
2005–Present: One Taste & You Get It.
2006: Can You Handle The Taste? (seen in Austria, Denmark, Finland, Germany, Netherlands, Sweden, and Poland)
2006: Authentic blend of 23 flavors. United States, Canada
2006: Dr Pepper, makes the world go round.
2006: Dr Pepper, nothing better. United States
2006: The Dr knows the right touch. (used in Europe)
2006: There's more to it. United States
c. 2006: Get Berried in Cream United States (used for the new Berries and Cream flavor)
2007: I Want It All. United States
2007: El Dr muy bueno Latin America
2008: Drink It Slow, Dr's orders (United States)
2009: Trust me – I'm a Doctor. (ft. Julius Erving, Kelsey Grammer, Gene Simmons, Dr. Dre) United States
2009: It's so amazingly smooth, you have try it to believe it! and Amazingly smooth Dr Pepper Cherry
2010: There's nothing like a Pepper United States
2011: Can you handle the taste?
2012: Always One of a Kind (United States)
Vernors
Detroit's Drink.
Deliciously Different.
It's what we drink around here.
Barrel Aged - Bold Taste.
Sunkist (soft drink)
Good Vibrations. (1978-early 1980s)
Drinkin' in the Sun. (late 1980s)
Feel All orange Inside. (2007-2010)
Head For the Sun. (2010-2013)
Taste the Sun. (2013-2016)
Drink the Sun. (2016-2018)
Good Vibrations. (2018-Present)
Snapple
Brand Slogan: Made from the Best Stuff on Earth.
RC Cola
The season's best.
RC tastes best, says Lizabeth Scott.
RC: Just like in America!
Hires Root Beer
Advertising Slogan: Join Health and Cheer; Drink Hires Rootbeer.