Farley's & Sathers Candy Company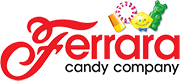 Eat some now, Save some for Later.
Hard 'N Fruity now and Soft 'N Chewy Later.
Brach's
Tagline: Break Out the Brach's.
Now and Later
Share the Square.
Eat Some Now, Kid.
Trolli
Tagline: The one for fun!
The Ferrara Candy Company is an American candy manufacturer owned by the Ferrero Group.