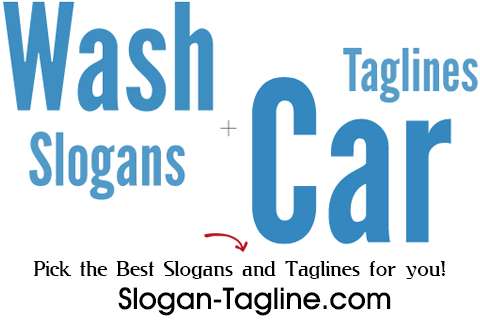 A clean car is a happy car.
A clean car says a lot about you.
A dirty car is a dirty shame.
A great carwash.
A great place to wash your car!
A sparkling good deal.
Always expect fast and efficient service.
Beyond clean and more than just shine!
Brand new touch less car wash.
Bringing back that new car feeling.
Caring for your car and the environment.
Cars deserve better.
Clean cars go far.
Clean cars run better.
Clean inside. Clean outside.
Clean windows improve your outlook.
Clean your car. Green your planet.
Clean. Fast. Friendly.
Clean. Shiny. Dry.
Cleaning up the city, one car at a time.
Come on in. The waters fine.
Convenience with a smile.
Dirt removal with your approval.
Don't get caught riding dirty.
Don't just wash your car, super shine it!
Dress for success from wheel to wheel.
Drive in, get wash, be happy!
Drive with pride in a clear car.
Excellence in car care!
Experience waitlessness.
Express hand wax in minutes.
Fast. Clean. Dry.
Feel good in a clean car!
Fly back to a shiny car.
Focus on the details.
For a nice fresh day, wash your dirt away.
For all that your car goes through.
Get a showroom shine, every time.
Get in. Get out. Get clean. Go green!
Get in… Get clean.
Good to the finish.
Growing. Smarter. Together.
If your car is not becoming to you, you should be coming to us.
If you've got the time… we've got the shine!
Improve your image, wash today.
Intelligent car wash.
It's more than a car… Keep it clean.
It's like a spa for your car.
Keep it clean, we're all downstream.