Wonka Chocolate
Feed your imagination.
Galaxy Milk Chocolate
Why have cotton when you can have silk?
Lose yourself in a good book with Galaxy.
Think chocolate. Think Galaxy.
Galaxy Promises
Different every time.
Dove Chocolate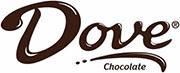 Choose pleasure.
Dove. Silky smooth.
Dove Dark Chocolate
It's not just dark. It's Dove.
Hershey's Milk Chocolate
Hello happy. Hello Hershey's.
Hershey's is mine, yours, our chocolate.
Pure Hershey's. Pure happiness.
Schmitten brand of luxury dark chocolate in India
There's always a sweeter side.
My Schmitten is only mine.
Time to get lost in Schmitten.
Lindt Swiss chocolate
Lindt. Chocolate beyond compare.
100% pure passion.
Brookside Chocolate
Talk about delicious.
Nestle Chocolate
Sweet dreams you can't resist.
Ritter Sport brand of chocolate in Germany
Quality in a square.
After Eight Mint Chocolate
See you After Eight.
The After Eight you can enjoy before eight.
Toblerone Swiss chocolate
Better than sex. It peaks 11 times.
Lose yourself in the Toblerone triangle.
Make time for Toblerone.
Cailler Chocolate Switzerland
Pure chocolate. Pure emotion.
Ghirardelli Chocolate
Moments of timeless pleasure.
Ghirardelli Intense Dark Chocolate
Lose yourself in the dark.
Milka Chocolate
Tenderness is inside.
Dare to be tender.
World-famous, because it is so good.
Cadbury Dairy Milk Chocolate
Free the joy.
Pure Cadburyness.
Your happiness loves Cadbury.
Cadbury Dairy Milk Silk
Say it with Silk.
Cadbury Bournville Dark Chocolate
The perfect way to end your day.
Cadbury Dream White Chocolate
Let the taste take you away.
Goya Chocolate Philippines
Enjoy life. Enjoy Goya.
Amul Chocolate
A gift for someone you love.
Callebaut Belgian chocolate brand
For the love of chocolate.
Cote d'Or, Belgian chocolate
Cote d'Or. Aphrodisiac.
Green & Black's Chocolate
It deserves a little respect.
Choko la Chocolate and Chocolate Candies in India
Deeply divine chocolates.
Terry's Chocolate orange
Round. But not round for long.
Terry's Plain Chocolate
Rich, dark and perfectly smooth.
Chocolate is a preparation of roasted and ground cacao seeds that is made in the form of a liquid, paste, or in a block, which may also be used as a flavoring ingredient in other foods.