Hobnob biscuit
one nibble and you're nobbled.
Chocolate now has Hobnobs underneath.
Hula Hoops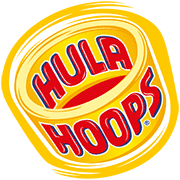 Now 55% less Saturated Fat - Same great taste.
Cooked with 100% Sunflower Oil.
Best ever flavour.
Amazing taste and satisfaction.
Now no artificial flavours, colours, or MSG. Same great taste!
McCoy's (crisp)
The Real McCoy's – Accept No Imitations.
Nik Naks (British snack)
Tagline: Eat The Freak.
Penguin (biscuit)
Advertising Slogan: P...P...P...Pick up a penguin!
Skips (snack)
Dainty aren't they?
Trio (chocolate bar)
Tagline: I want a Trio and I want one now!
United Biscuits ("UB") is a British multinational food manufacturer, makers of McVitie's biscuits, Jacob's Cream Crackers, and Twiglets.