Boost (chocolate bar)
Boost Guarana: One Step Ahead.
It's slightly rippled with a flat under-side.
Cadbury Caramilk
Slogan: I was right in the middle of a Caramello when I found gold.
Cadbury Creme Egg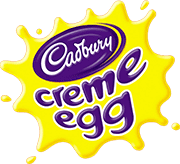 Don't get caught with egg on your face.
How do you do it?
Nobunny knows Easter better than him.
Cadbury Dairy Milk
a glass and a half of full cream milk in every half pound.
Cadbury Dairy Milk Caramel
Slogan: still got it.
Cadbury Dairy Milk Fruit & Nut
Slogan: Everyone's a fruit and nutcase.
Cadbury Fingers
Slogan: one may lead to another.
Cadbury Roses
Say 'Thank You', with Cadbury Roses.
Roses Grow On You.
Caramello Koala
with a tummy full of caramel.
Certs
Slogans / Taglines: The Right Amount Of Mint.
Chappies Bubblegum
Tagline: Unwrap an Adventure.
Cheezels Cheese curl
Tagline: Finger-Licious Fun! (Australia)
Cherry Ripe (chocolate bar)
Tagline: The Big Cherry Taste.
Chips Ahoy! Drop cookie
You cannot take a bite without hitting a chocolate chip.
Betcha bite a chip.
There's a lotta joy in Chips Ahoy!
Crazy with chips!
Chomp (chocolate bar)
Slogan: It's a monster chew!
Crunchie
Get that Friday feeling.
Crunchie makes exciting biting.
Dairylea (cheese)
Kids will eat it until the cows come home.
Kids will do anything for the taste of Dairylea.
Dentyne Mints
Slogans / Taglines: Happy hunting.
Double Decker (chocolate bar)
Slogan: crispy, crunchy, chewy and nutty.
Freia (chocolate)
A small piece of Norway.
Fry's Turkish Delight
Slogan: Full of Eastern Promise.
Fudge (chocolate bar)
Slogan: A finger of fudge is just enough to give your kids a treat.
Fuse (chocolate bar)
Don't blow a fuse eat one.
Only eat while wearing rubber soled shoes.
Hollywood Chewing Gum
Freshness of life.
Marabou (chocolate)
Slogan: Mmm... Marabou!
Moro (chocolate bar)
Get more go.
Oreo Sandwich cookie
Wonderfilled
Milk's favorite cookie.
Only oreo.
Picnic (chocolate bar)
Deliciously ugly.
More like a banquet than a picnic.
Sour Patch Kids
Slogan: Sour. Sweet. Gone.
Terry's All Gold
Advertising slogan: See the face you love light up with Terry's All Gold.
Terry's Chocolate orange
Round but not round for long.
mash it to pieces, love it to bits.
Time Out (chocolate bar)
Tagline: The wafer break with a layer of Flake.
Trident (gum)
The Great Taste that Is Good for Your Teeth.
Four out of five dentists surveyed recommend sugarless gum for their patients who chew gum.
See what Unfolds.
Wispa
Tagline: Time Well Mis-spent.
Mondelēz International, Inc. is an American multinational confectionery, food, and beverage company.